It took me a few years to find my way with newborn photography. Baskets, props, tutus, and uber-posed baby portraiture were just not… well, me. I almost gave up on offering newborn photography. When I discovered lifestyle portrait sessions, I found a way to incorporate my love of natural, simple, beautiful moments and the fulfillment that comes along with photographing joyful emotions.
Those real moments are what I'm passionate about and my goal during every newborn session is to give you real memories to hold onto… What your baby was like as a little newborn, how you were as a new parent, the wonder, awe, and new family experiences. Your session is meant to document all those beautiful things. Now that I've become a mom, I know how absolutely precious and fleeting those tiny newborn days are!
What is it?
It takes place in a natural light studio that we rent for 2 hours. It's an intimate portrait session with you, your partner and your new little one. It's about documenting this new life, new addition and new family. It's about simplicity, light, and love in its purest form.
In most cases, you want to do a newborn shoot 6-10 days after the baby's birth (the sooner the better). The littler they are, the better chance that they will still be sleepier, calmer and more comfortable.
It takes time. Most newborn sessions need to be two hours due to having to feed, change, calm and cuddle in between poses and locations. Babies will not be told what to do, haha! Many times, we just go with the flow and accommodate their needs throughout the shoot.
This session does not include your typical "baby in a basket", propped up on a bean bag, super-posed type of shots. If you'd like that type of shoot, lifestyle newborn portraiture may not be for you and I'm happy to recommend a photographer who specializes in that!
Here are a few tips for the day of the shoot:
Grab your plain white or neutral outfits you want to use. I love matching wraps and hats from Caden Lane. And if you have special or sentimental swaddle cloths, blankets, quilts or other things you like that are simple and neutral, grab those too. We won't be using frilly or complicated baby outfits as we want to keep it timeless, simple and natural, and of course we want to keep baby comfy.
Plan on feeding the baby right before you leave so we can make he/she all comfy and cozy and easy to pose. (Of course, if the baby needs to eat, do what you need to do – we also want to avoid upsetting them.) When we arrive at the studio, we'll want to get going with the shoot as soon as we can.
You will probably have to feed the baby halfway through again if he/she wakes up or gets uncomfortable.
Here's some info on what to wear:
It is essential to get your outfits together before the baby arrives. It is almost impossible to think about that sort of thing when you're navigating that first week with a new baby.
For parents' outfits, I recommend coordinating soft, cozy clothes that are more neutral. White, neutral and pastel colors work great for light and airy newborn images. You definitely don't have to be matching, but think fresh, clean and simple. Black and dark colors are a little harsh for a newborn shoot. If you want to get some inspiration for clothes and get a sense of the look I'm going after, check out my Pinterest board for newborn shots.
Here's my favorite dress site: Baltic Born. That link is for white and off-white dresses but you can play around with different color options to see more. Just so you're aware, all their returns are only for store credit.
Here are a few Amazon outfit ideas as well. I can't vouch for the quality, because well you know, it's Amazon… but you could easily try a few and return with prime.
Keep in mind at a week postpartum, you'll still have the equivalent of a  5-month bump so things that have stretch or aren't fitted around the middle will fit best. Pregnancy Spanx can come in handy too.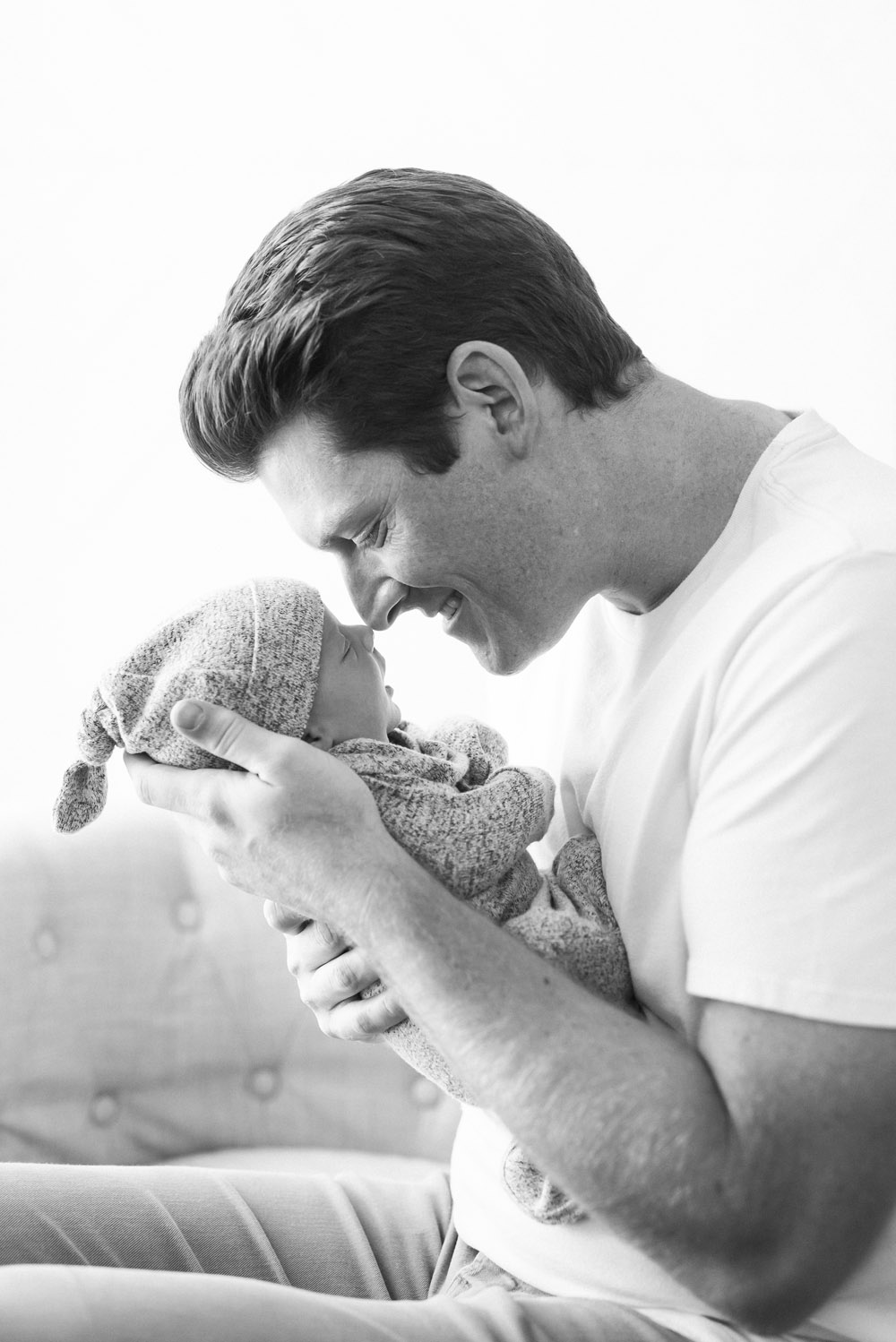 ]