I met Kristina + J.J. a few months back when we did their engagement session at Valley of Fire. We hit it off wonderfully and I loved their romantic, sweet nature with each other. I couldn't wait to photograph them again on their wedding day. The couple planned their Vegas destination wedding from their home in Pennsylvania, where Kristina actually works as a wedding planner and coordinator. They knew they wanted to get married on the Strip, have a beautiful ceremony with their friemily, and party the night away at a classy joint with amazing food and great cocktails.
They got ready in separate rooms that morning. When J.J. got choked up reading his card from Kristina, I knew it was going to be one of those truly emotion-filled weddings where you feel all the feels (my fave)! Kristina got ready in a suite with three of her closest friends who also happened to be her sorority sisters. She did a tear-filled first look with her dad and then she read J.J.'s sentimental, sweet card. I took the couple outside for a first look by the pool, and the groom's reaction was just priceless. He slowly turned around, his eyes welled up as he pulled his hand up to his face, and the couple spent a few minutes just holding each other close. First looks are not only so that you can fit more portraits into your wedding day–they are amazing because of the true moment of love and togetherness it creates between you and your spouse-to-be. You share a moment together, you calm each other's nerves, and you get to have a few minutes just to yourselves before seeing all your guests.
Kristina + J.J. chose to have their ceremony inside the chapel at Mandalay Bay. Since the property has their own chapel photographers, I didn't get to photograph that portion, but it was awesome to be able to spend the rest of the day with them. After the ceremony, we hopped on a party bus with the rest of the bridal party and headed for the Welcome to Vegas sign. We got some fun shots there and traveled to the Caesars Palace gardens and Bellagio fountains for some sunset couple's portraits.
Their reception was in Joe's Stone Crab, a high end prime steak and seafood restaurant inside the Forum Shops at Caesars Palace. It's one of the best restaurants on the Strip for destination weddings to have a large, classy reception with scrumptious fine dining (seriously, it's delish).  After the couple's first dance, the bride danced with her dad and both of them shed a few more tears. There's probably nothing more heart warming than a teary dad on a wedding day–those moments are just priceless. They opted out of having a traditional wedding cake and instead cut into a key lime pie, which found itself all over J.J.'s face. He was so sweet feeding her a piece first, and he definitely didn't see that one coming. (Jackpot, Kristina!) The group celebrated the rest of the evening in true Vegas style. I couldn't be more honored to be part of their intimate destination wedding. Congrats, Kristina + J.J.!
Ceremony Venue: Mandalay Bay  |  Reception Venue: Joe's Stone Crab  | Hair + Makeup: Amelia C & Co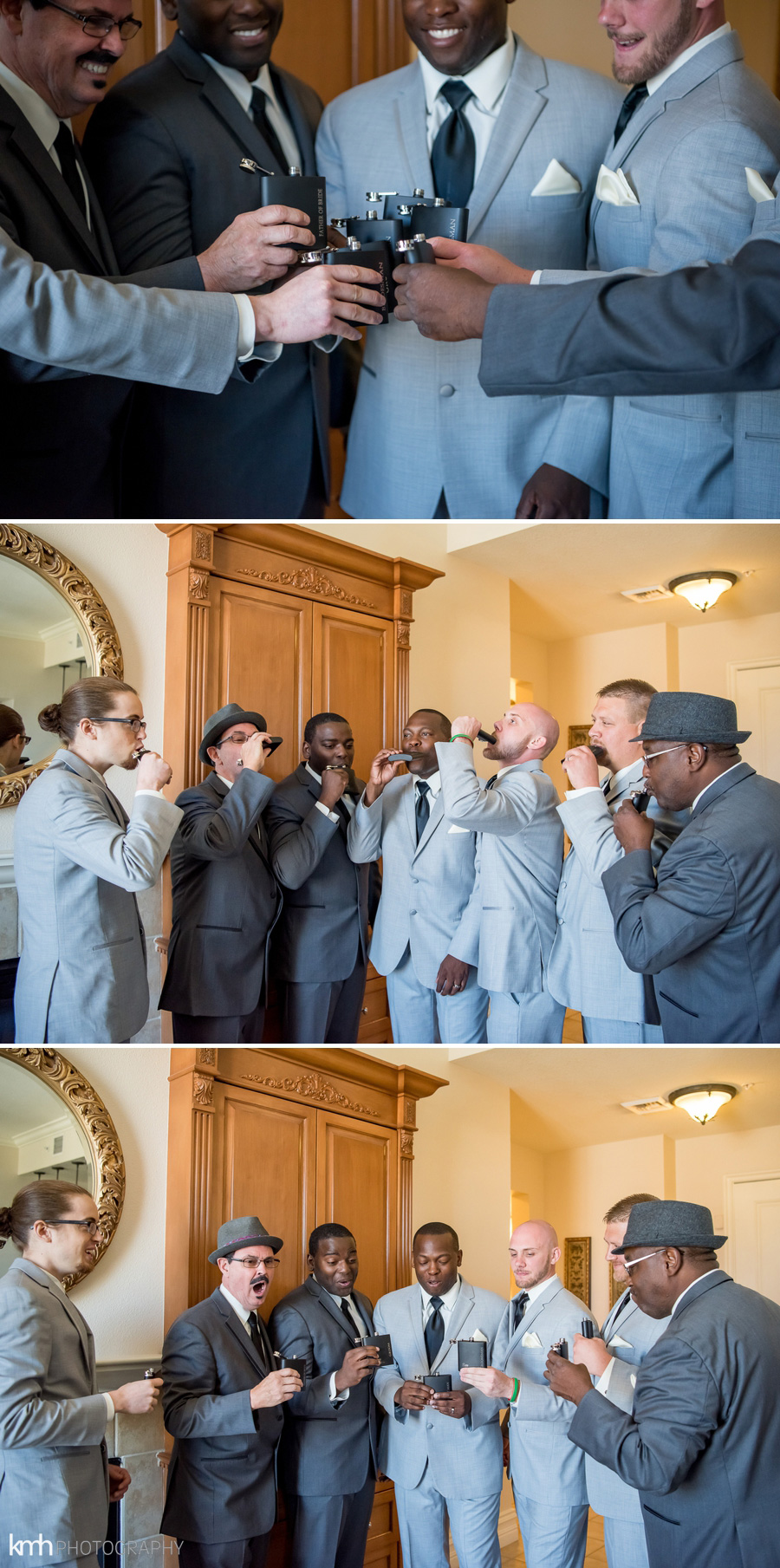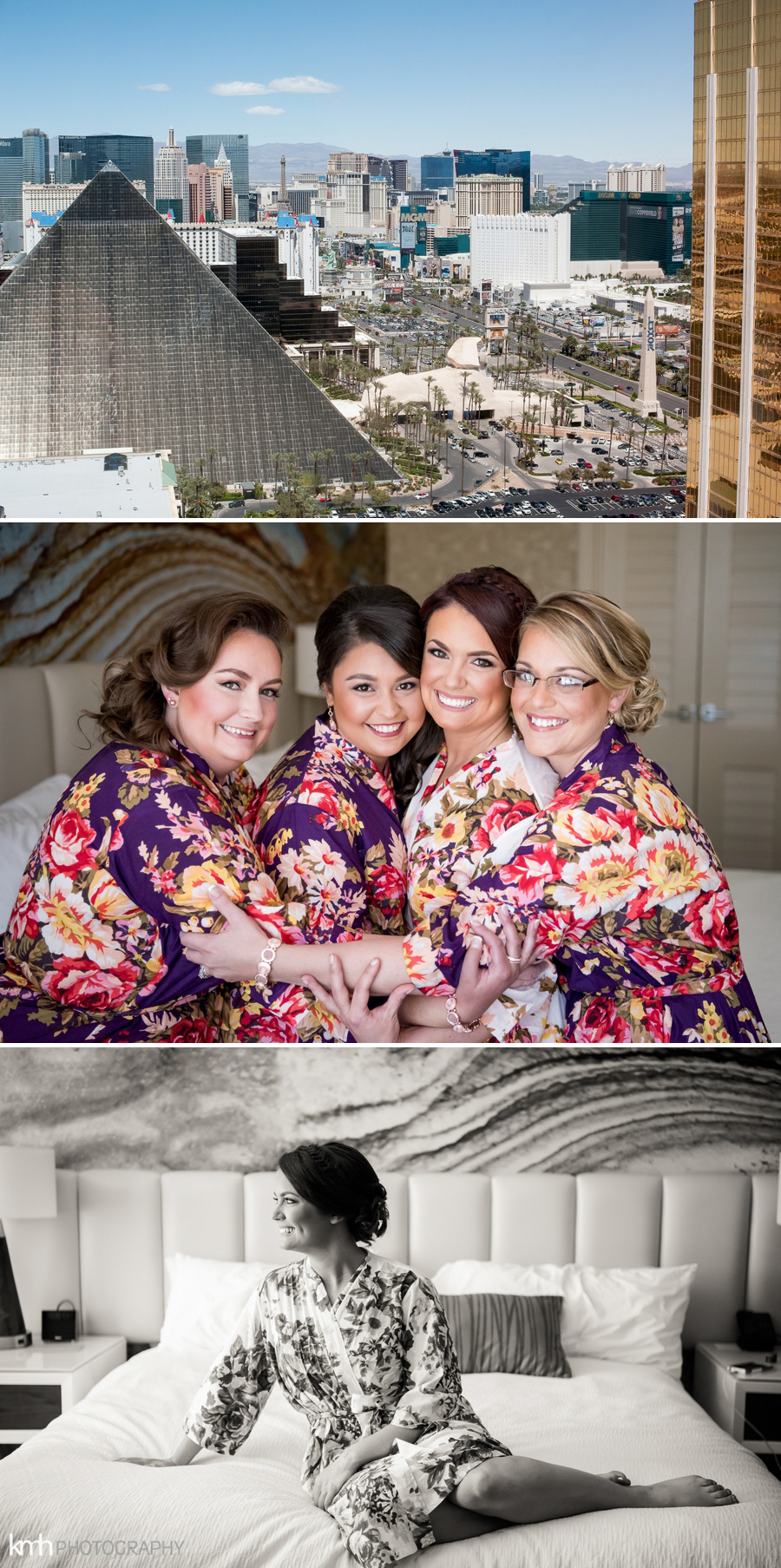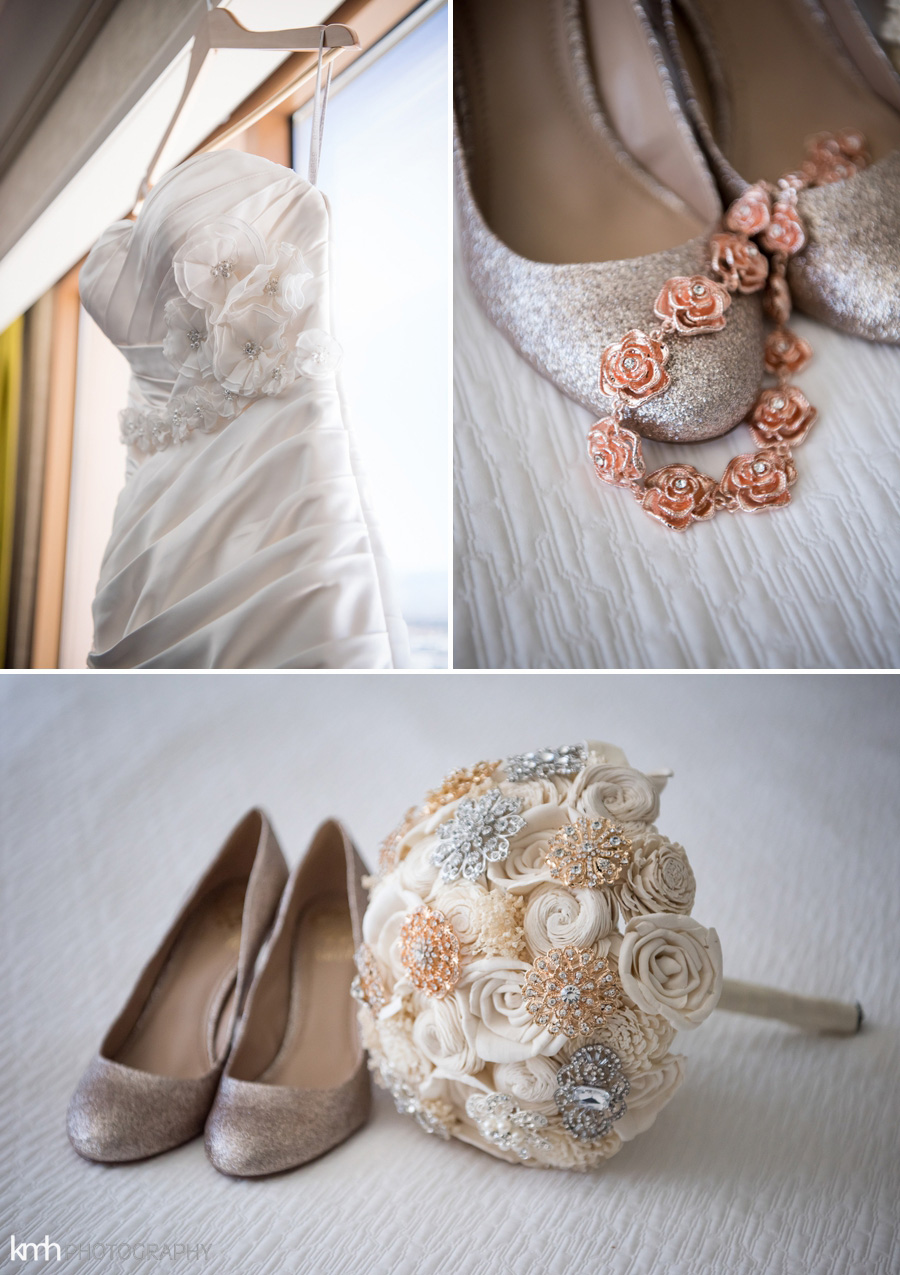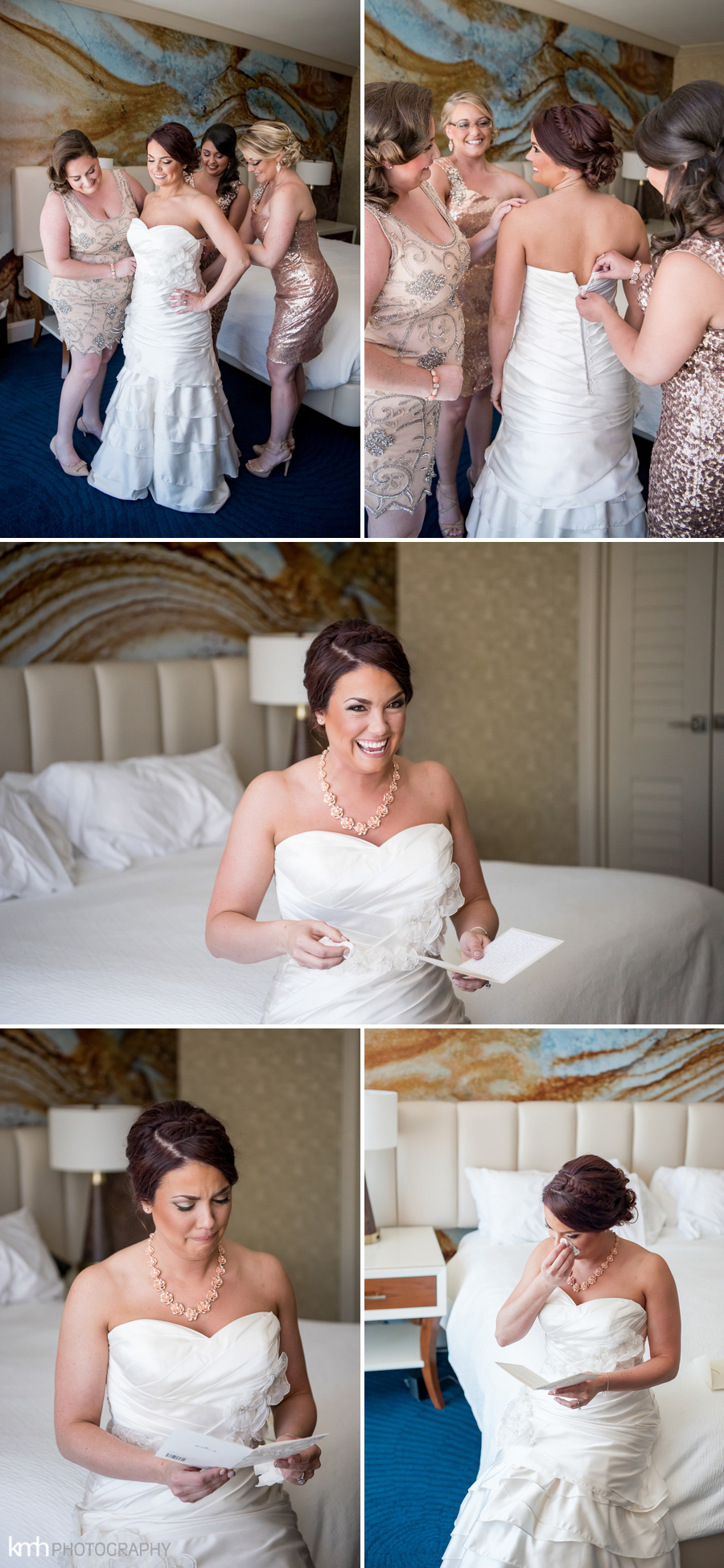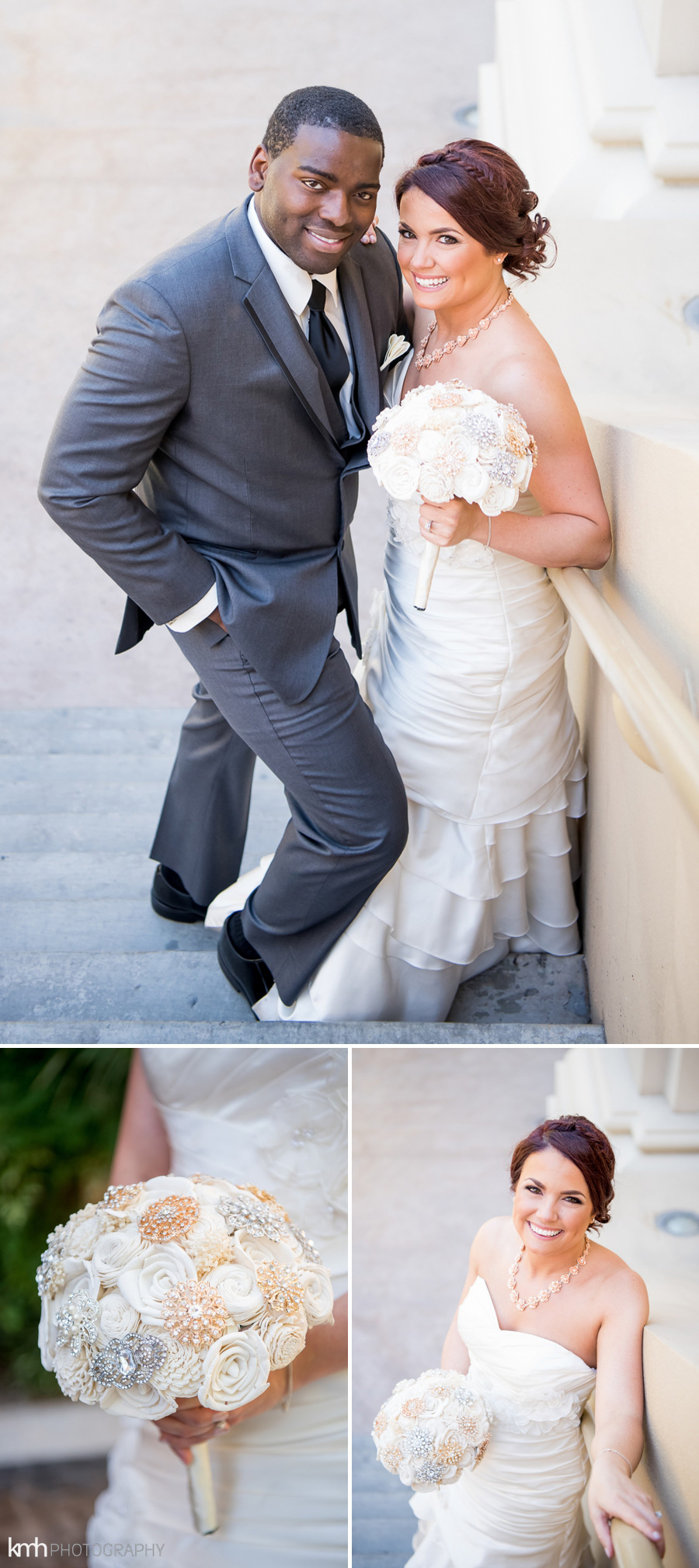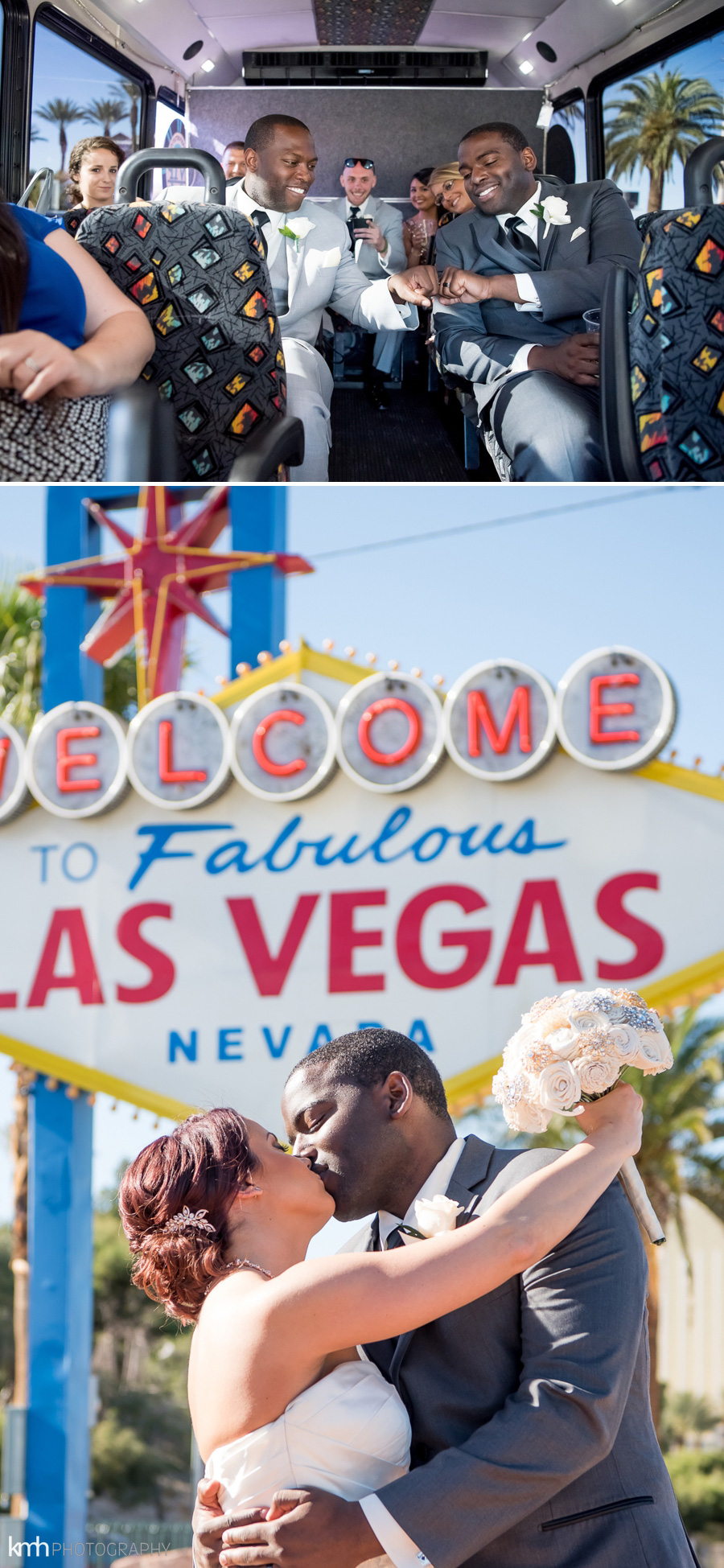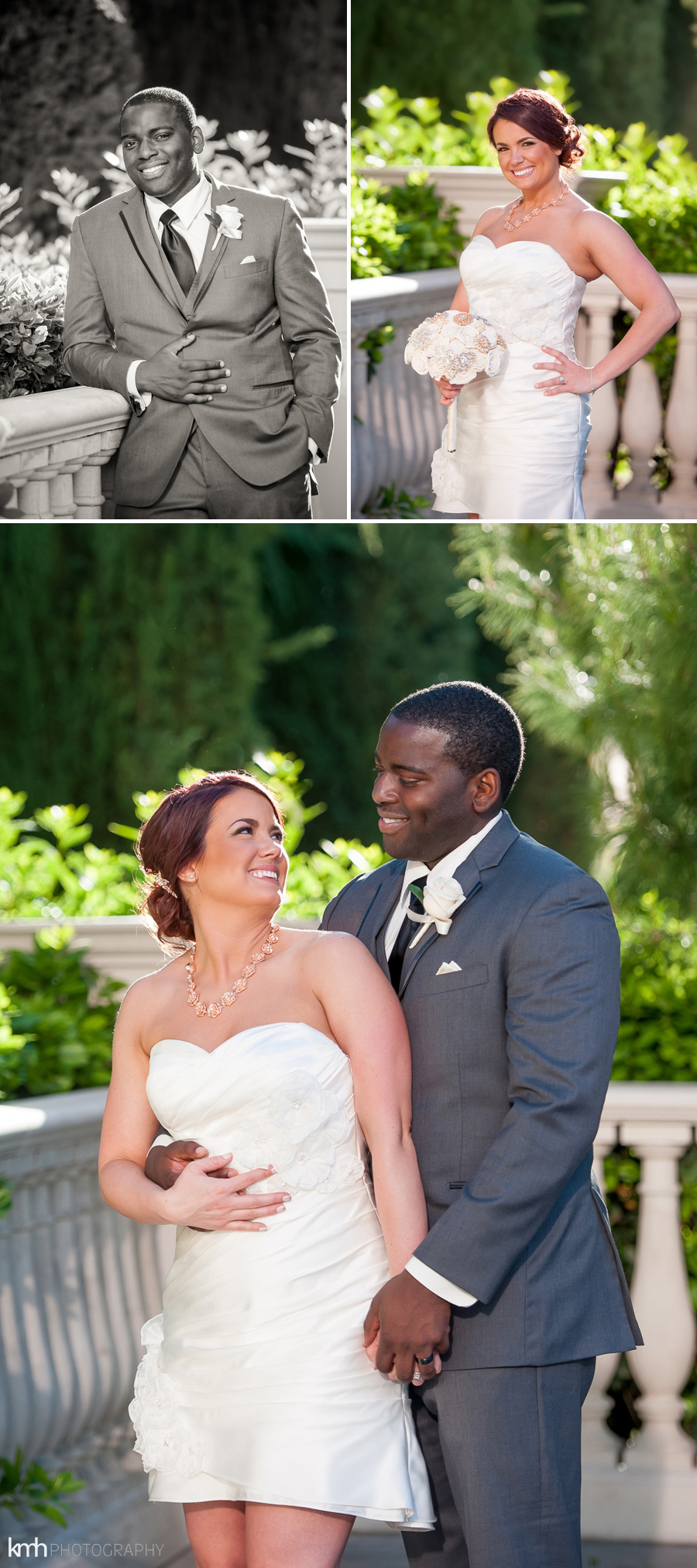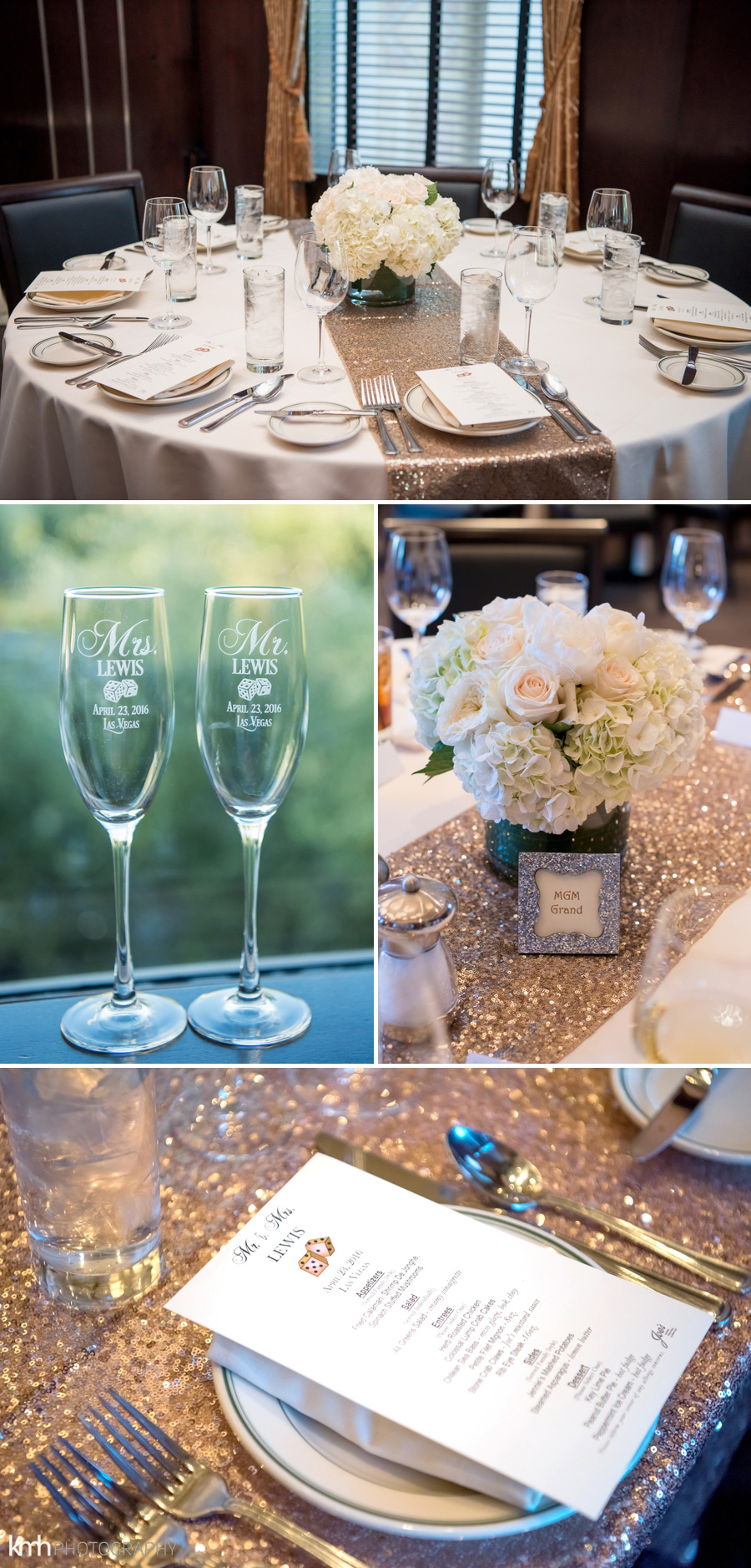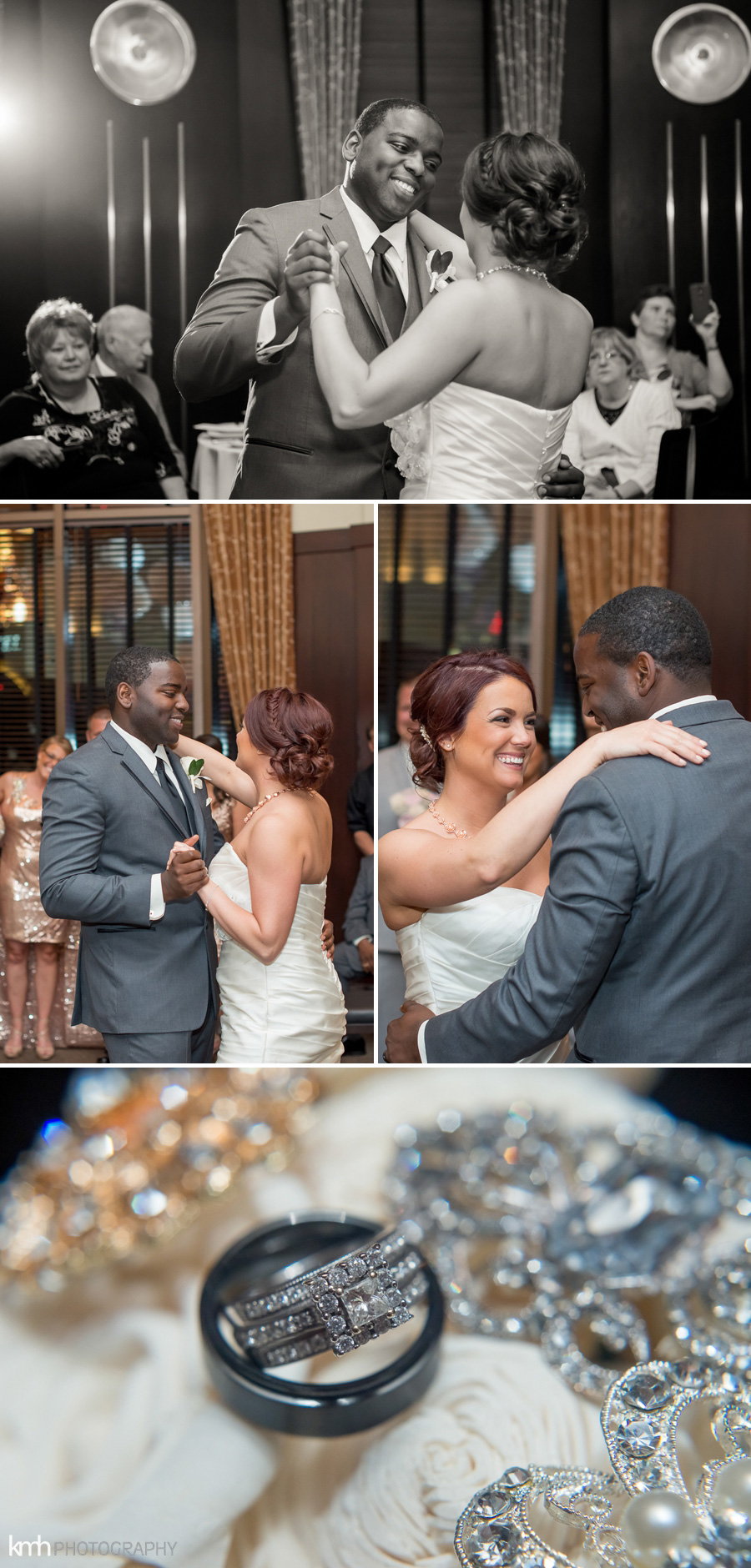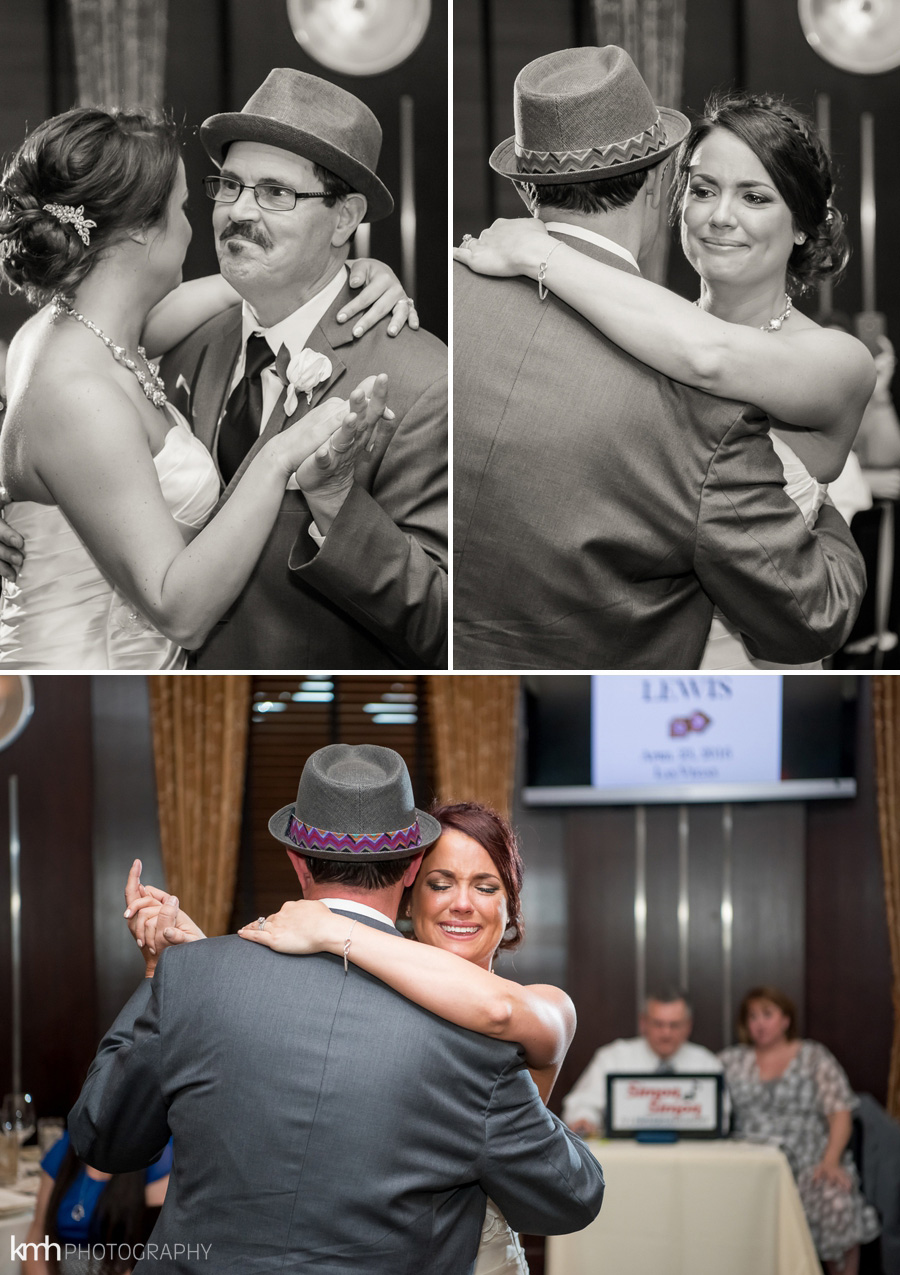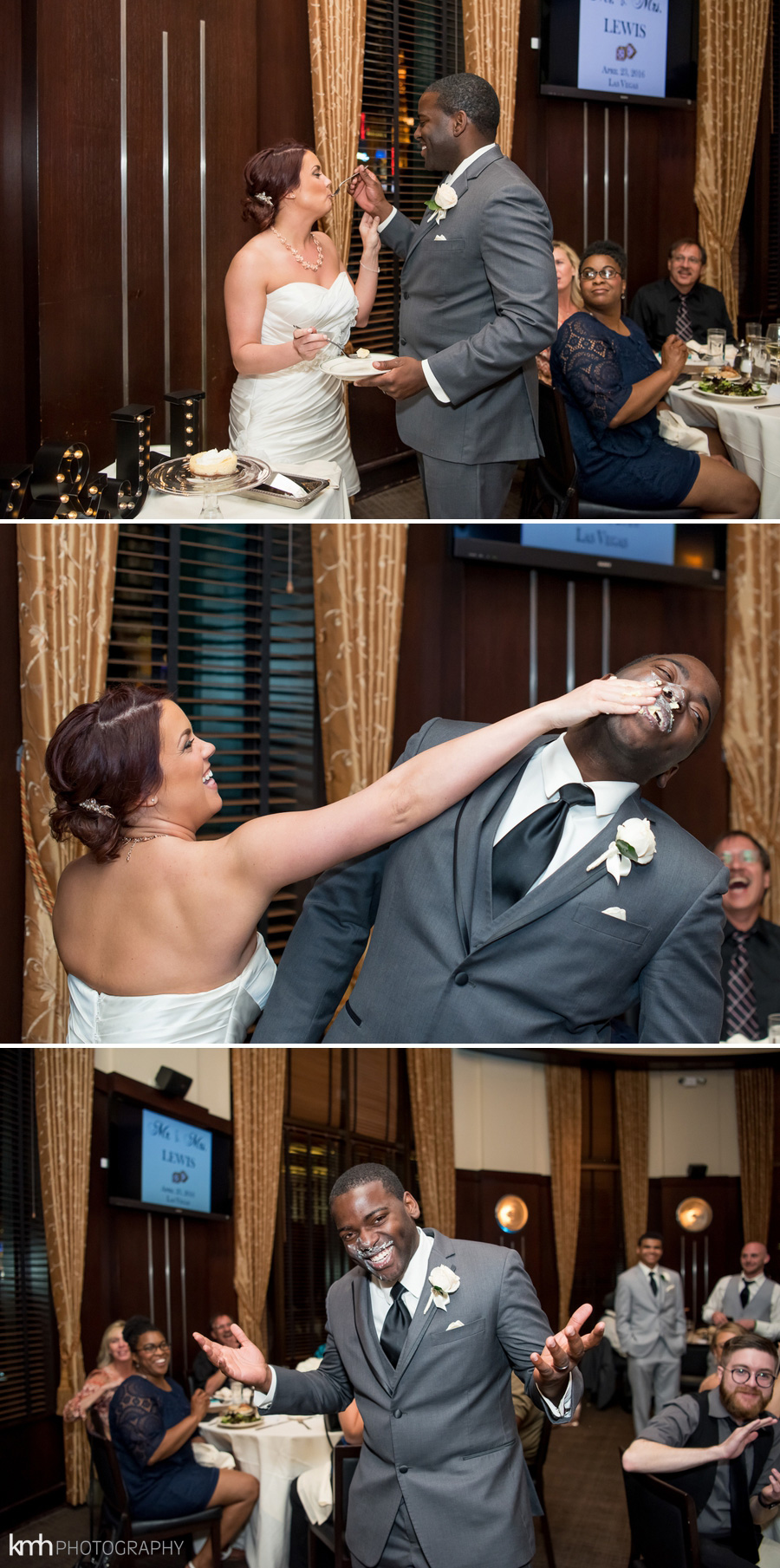 Check out more images in the slideshow…